This year, I'm celebrating two anniversaries. Both take place at the end of September. The first is slightly less conventional than the second, but in many ways it means just as much: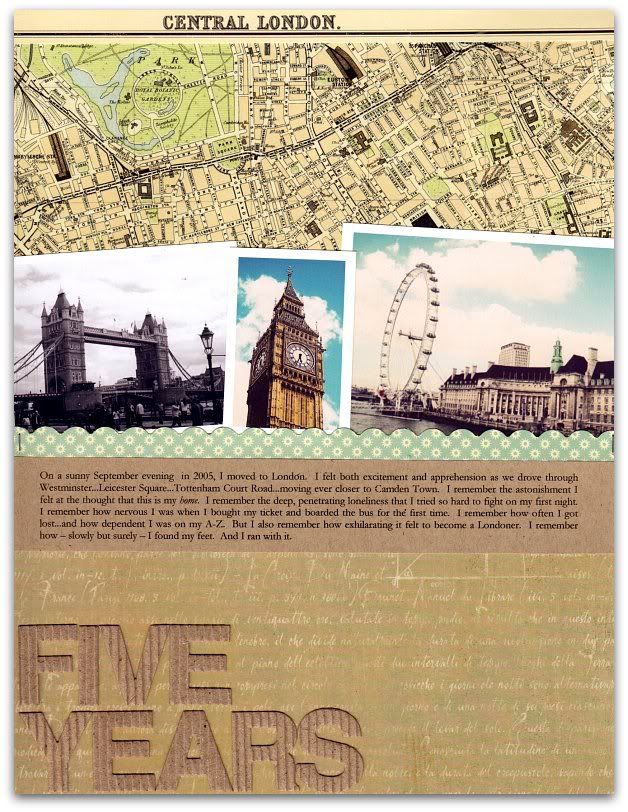 I honestly can't believe that I've been living in London for
five years
. It feels like yesterday that I moved here.
..I had
just turned nineteen at the time and I was so. very. NERVOUS!! I still remember exactly how I felt on that late September evening, so I decided to record these feelings in my journaling (click on the layout to make it bigger).
This layout turned out very differently to the one that I had envisaged beforehand. I was really inspired by
Vee's challenge
on the Studio Calico blog - to create a monochromatic or semi-monochromatic layout using neutrals - but as I started to put everything together I realised that I had a sheet of OA patterned paper that would be perfect for the overall theme! I particularly love it because if you look very closely, you can see both where I live at the moment and where I lived three years ago. So, instead of going for complimentary creams, I settled on kraft for the title, journaling and bottom half of the layout and added a splash of colour with the B side of the OA paper.
And for my 'second' anniversary:
Yup, Jamie and I are celebrating our five year anniversary this month :) This is another one of those 'it feels like yesterday' moments...probably because within a week of moving to London, I accidentally bumped into Jamie (I'm pretty sure it was on a Thursday evening) during Freshers' Week. I was lost...he was with a couple of people that I recognised from my course...and because we were all going to the same place, I tagged along. We've been together ever since. It really goes to show that you can find love in the most unexpected places...
This is another layout inspired by Studio Calico - this time using this week's
Sunday Sketch
(based on Jen Jockisch's lovely layout). I wanted this layout to feel warm and homely, so I picked out some corresponding papers from SC's August kit and some embellishments from Partly Sunny and Continental. The Maya Road envelope will eventually contain some journaling, and I stamped the title using
these stamps
and then embossed the letters with gold embossing powder. I can't decide whether to do some stitching on the layout, or leave it as it is...any thoughts?
TFL and have a wonderful weekend!