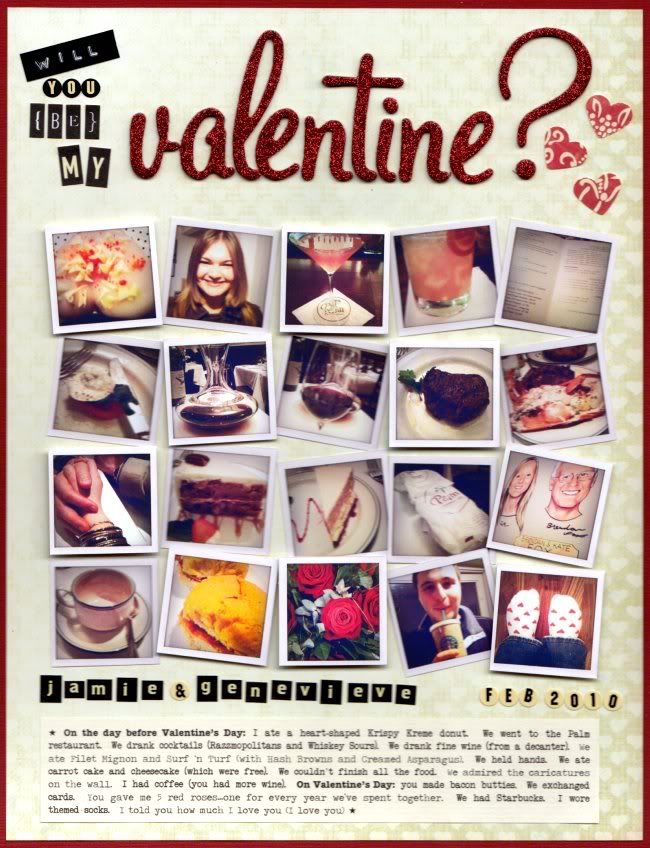 Cardstock: Bazzill Basics; Patterned Paper: Pink Paislee; Letter Stickers: American Crafts, Jenni Bowlin Studio, Making Memories, October Afternoon, Cosmo Cricket, Dymo; Punch: Dovecraft; Fonts: Another Typewriter, Traveling Typewriter, American Typewriter; Adhesive: American Crafts
Sometimes (but rarely for me), a layout just falls into place. This was one of those layouts. I spent a good ten minutes staring at the Pink Paislee patterned papers (the
'one manufacturer'
for February), my collection of Thickers and letter stickers...and finally the photographs. Oh how I love the ShakeItPhoto app for the iPhone! For those times when it is completely inappropriate to whip out your camera and take 250 photos of the contents of your plate, the ShakeItPhoto app (and the iPhone in general) are a scrapbooker's/aspiring paparazzo's dream. Anyway, ten minutes later the layout was pretty much in place. This is highly unprecedented - it was very much a 'ta-da!'/hallelujah moment. I'm keep my fingers crossed that I have more of them...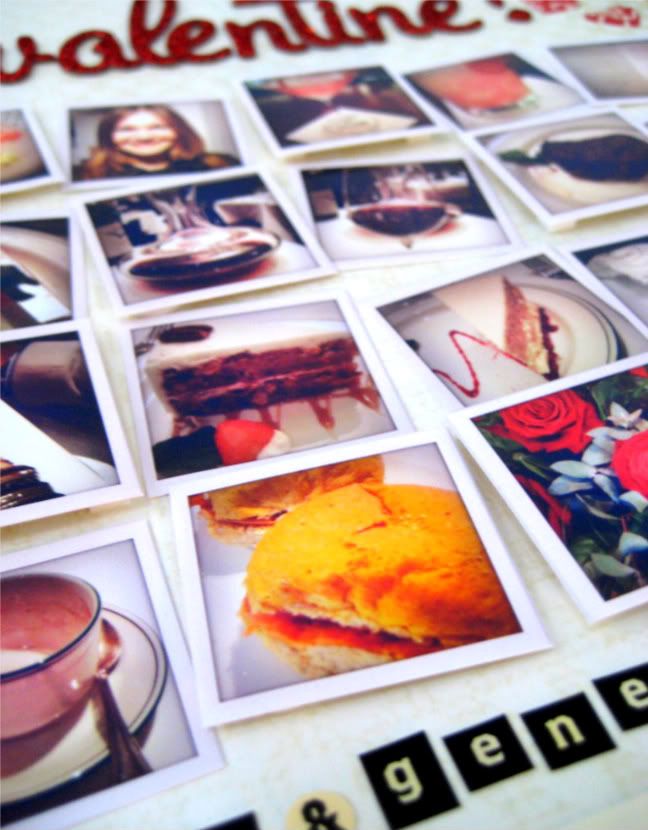 I tried three new things on this layout: the new Cosmo Cricket Tiny Type letter stickers; the October Afternoon Mini Market letter stickers; and American Crafts' This to That permanent glue runner. All three are
awesome
. I would definitely recommend the AC adhesive - it was very smooth, very easy to use...and it actually adhered
all
of the glue to the page, rather than half of it...although I have a feeling that my problems with glue runners are more to do with the person applying them than with the product itself. *Ahem.* I had a lot of fun putting the grid together - to give it a bit of dimension I used two different sizes of 3D foam dots (applied haphazardly to the page). I think those Lullaby Glitter Thickers are my favourites so far...I just wish they were available in more colours!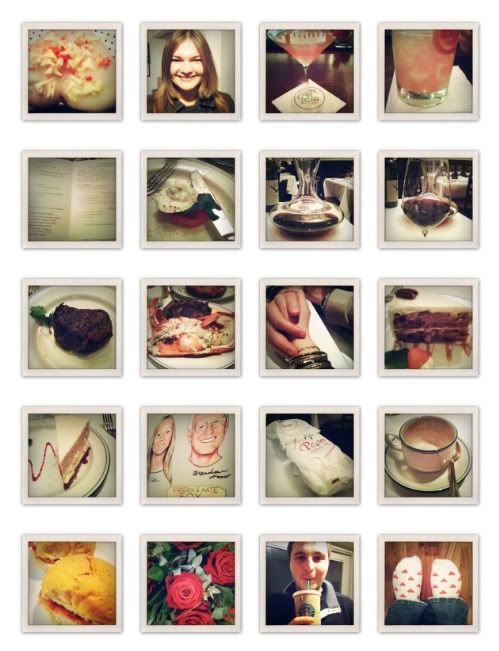 We had such an incredible Valentine's weekend. Luckily for me, Jamie figured out pretty early on in our relationship that the fastest way to my heart is through food, so he took me to the Palm restaurant (an American Steakhouse) for dinner on Saturday. WOW. The food there was
unforgettable
. We did a lot of laughing...I sampled a Razzmopolitan (or two) and the waiter gave us free desserts. We will definitely be going back! On Sunday morning we had bacon sandwiches and exchanged cards, Jamie gave me five beautiful red roses (one for each year of our relationship) and then we wandered off to Starbucks for hot chocolates and mocha frappuccinos before settling down to watch TV.
I may have also themed my socks to the occasion.

Have a wonderful weekend!