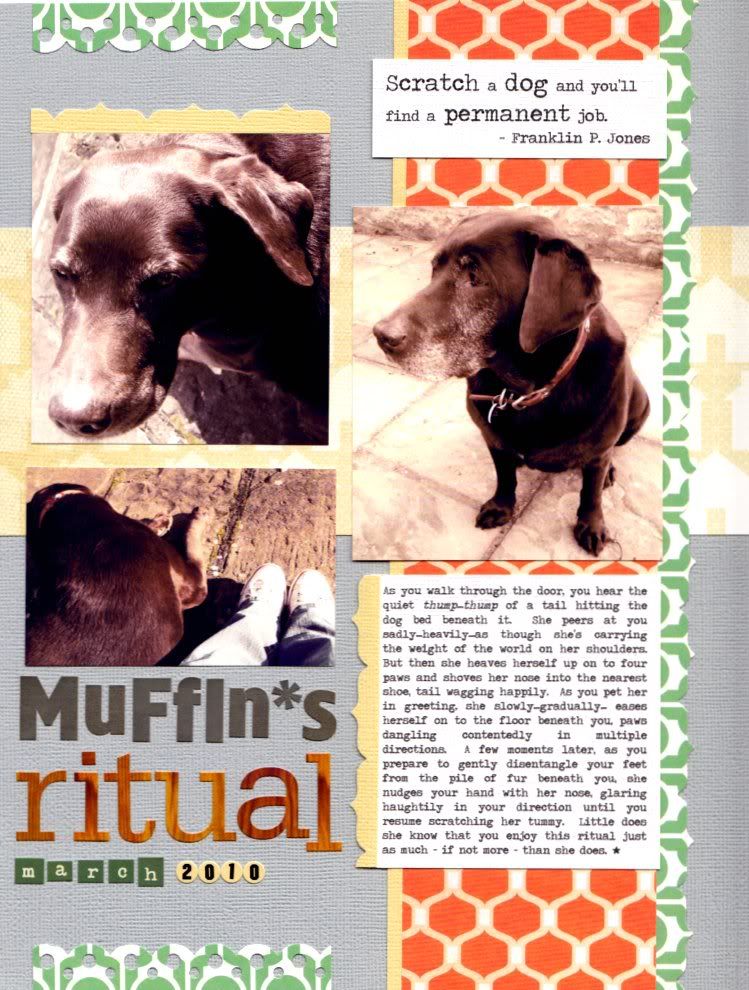 Cardstock

: American Crafts; Patterned Paper: Studio Calico; Letter Stickers: Studio Calico, Cosmo Cricket, Jenni

Bowlin

Studio; Punches:

Fiskars

and Martha Stewart; Font: Traveling Typewriter (from

dafont

.com).

Eek! Does anyone else feel like 2010 is flying by? It feels like yesterday that I was munching on a box of
Guylian

Belgian Chocolates
(I'm addicted to the roasted hazelnut praline) that came with my Easter egg...and now it's almost the middle of April. WOW.
Anyhoo
, after a busy couple of weekends away things are pretty much back to normal, which means that I've had a bit more time to catch up on my 2010 album. As a quick recap, for this album I decided at the beginning of the year to use one manufacturer per month (blogged
here
). The manufacturers that I have used so far are:
And for the next few months I'm planning to use:
I definitely had some reservations about the idea of limiting myself to just one core manufacturer each month, but so far it has worked out far better than I could have possibly hoped. It has especially helped to constrain my spending on supplies (this was a major motivating factor for using one manufacturer). I'm also enjoying the challenge of using the same patterned paper for multiple layouts in ways that will ensure my album isn't too repetitive. Perhaps the one drawback at the beginning of the year was the monotony of using predominantly the same collection from one manufacturer...but now that it's April (and now that I have collections from four manufacturers), I can switch for a while and work on layouts for February or March, until the 'fatigue' has worn off.
The layout (
Muffin's Ritual
) at the top of this post was put together using Studio Calico's Home Front. I don't naturally gravitate towards these colours, but I love how they blend together so well...and I love those letter stickers! I should probably mention that Muffin (the chocolate Labrador featured in the layout) is Jamie's family pet. She is quite the character, and over the past few years we've bonded on my visits up to Scotland :) Muffin
loves
attention, so when I found this apposite quote online I knew I had to create a layout dedicated to her quirks.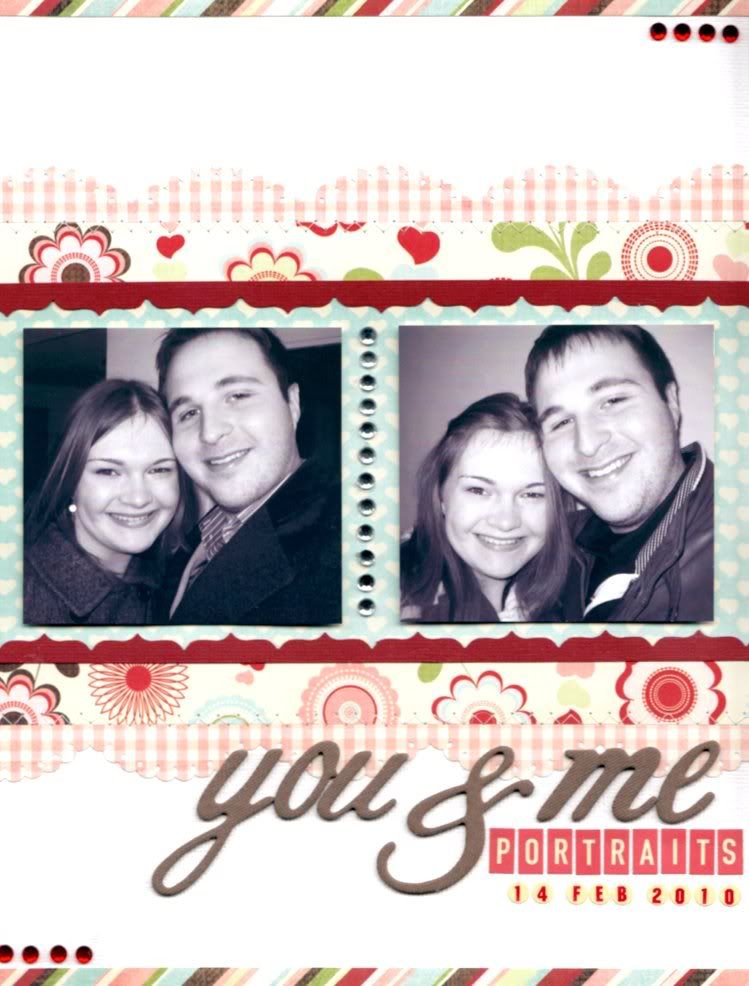 Cardstock

: American Crafts; Pattered Paper: Pink

Paislee

; Punches:

Ek

Success,

Fiskars

; Letter Stickers: American Crafts, October Afternoon, Jenni

Bowlin

Studio;

Bling

: from stash.

I created this layout using Pink
Paislee's
Cupid collection (to accompany
this
layout). Jamie and I tried in vain to take a couple of self-portrait photos over the Valentine's Day weekend (the sort where you stick the camera out in front of you and hope for the best), but sadly none of them came out particularly well. I was still keen to document them, so I edited them in
Picnik
and settled on a unifying black and white for both. I'm still obsessed with those October Afternoon Mini Market Stickers..and I'm super excited about ordering
these
. I am ridiculously addicted to letter stickers!
I'm spending the rest of the week in the library researching another essay (luckily this one is the last!). I'm also working on a new blog design, which will hopefully be up and running in a couple of weeks....I'm excited!!! I'll keep you updated....And I'm catching up on my Google Reader, so expect lots of comments very soon!
Thank you so much for looking!