Back in January,
Kelly Purkey
wrote a post on her blog called
'Where I Work.'
Have you read it? One comment that she made in particular really stood out for me:
"So I want to tell you that you don't need to have a big ela
borate scraproom or a mini scrapbook store in you
r house to really
rock it
."
Although I definitely don't
'
rock
it
'
just yet, I was vigorously nodding my head when I read Kelly's post. Even though I find myself longing for higher surfaces (I prefer to scrap standing up), less condensation (my scrap space is in the kitchen) and a slightly more 'free flowing' and methodical space (things can get a tad cramped at the moment), I have grown to love my little corner of the world. And, since I am taking Shimelle's
Something from Almost Nothing
class at the moment, I thought that this would be as good a time as any to share it with you. So, here we go: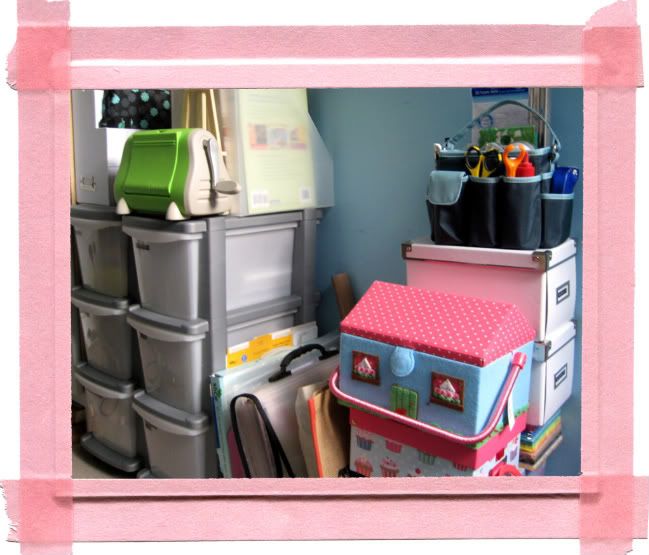 At the beginning of last summer, I started out with just one set of those handy plastic drawers. They aren't pretty (at all), but they are
very
functional. Since then, I've added various bits and pieces as my stash has grown. The house-shaped Cath Kidston sewing basket, for example, appeared after I resurrected my sewing machine last August (you can find it
here
). I bought the box underneath it in a W H Smith sale - it's going to store 4"x 6" photos once I get around to printing them online from Photobox. The white boxes from Ikea behind my sewing basket contain small punches and my stamping supplies (which are growing by the minute).

As you move to the left, the stuff propped against the drawers mostly consists of my patterned paper (in the plastic accordion folder) and various 12"x 12" plastic wallets which contain cardstock scraps, patterned paper scraps, layouts that went badly wrong, and bits of photo paper that have been guillotined but are still usable. I also have a 12"x 12" glass cutting mat for my Slice machine wedged in there, along with some cereal boxes, which are useful for all kinds of scrapping shenanigans (mostly messy stuff).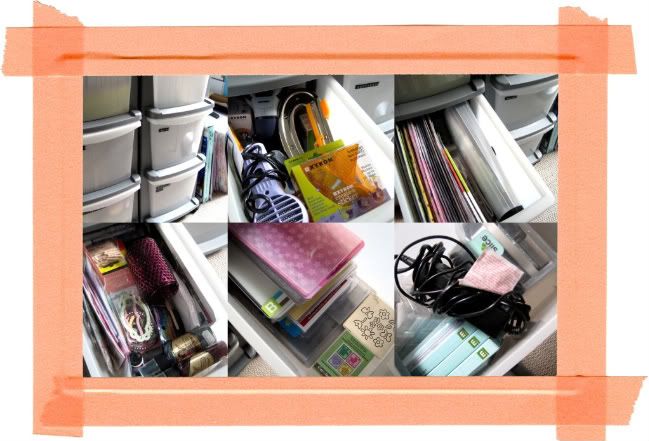 In the drawers (labelled with my Dymo Embossing Label Maker) from left to right:
Tools
, including my heat buddy, my Xyron Create-a-Sticker (from Mrs. Rose!), refills, heat gun, my Big Bite and the label maker, among other bits and bobs;
Stickers
, including AC Thickers and various other alpha stickers;
Embellishments
of all varieties;
Cuttlebug
accessories
, including embossing folders, dies and cutting mats; and my
Slice
machine, with my three design cards (Mistletoe, Spook Alley and Words & Expressions). I have another drawer that I can expand in to over the next few months...although it's already getting some overspill.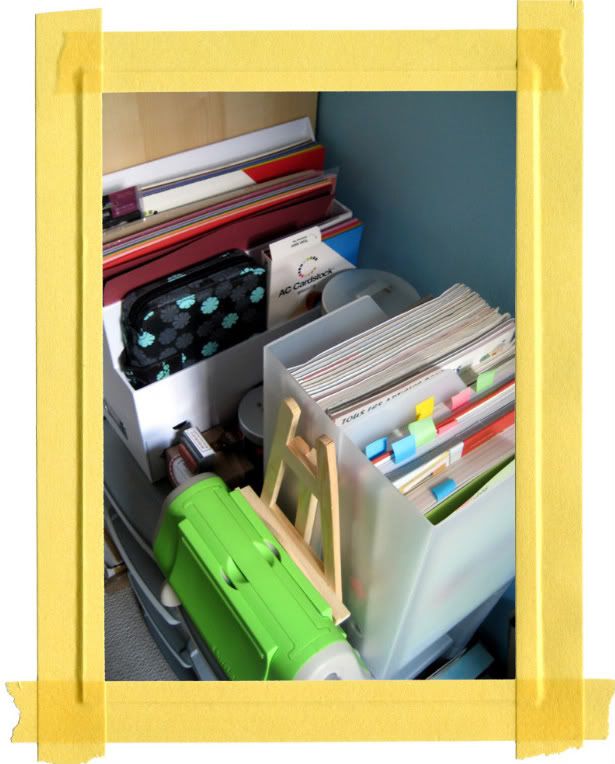 On top of the handy plastic drawers, I store my Cuttlebug and easel, scrapbooking-related books and magazines (holders are from Muji), my collections of ribbons and scissors (also from Mrs. Rose!) and my go-to supply of cardstock. I'm a big fan of AC cardstock, if only because I bought
this
a few months ago - seeing as I buy most of my supplies online, it's a huge help being able to use the swatch book to compare the colour on the screen to the colour in real life. You can also just see
this stamp
peeking out at the front, as well as my Slice tool kit (also very useful).
For the past few months I have monopolised the kitchen table as my makeshift work space (you can read more about it
here
). On one side, I have set up my laptop and printer (which is very small, so it can be moved around easily). My scanner also usually sits here, but I wasn't using it on this particular day so it is tucked away elsewhere.
On the other side, I like to collate all the things that I know I will need as I work on a layout: my Making Memories paper trimmer, which folds out to become a 12"x 12" surface (this was a birthday present from Jamie last year after my faithful Fiskars trimmer finally packed up); my 'punch bucket' (love those die-cut hearts! It's from Paperchase); my tool organiser; and my cutting mat, which is supposed to protect the glass surface on the table from getting covered in glue....but which doesn't always work. When I'm working on a layout, I like to take a step back from it every now and then to see how it is progressing, hence the easel. And I store my
'one manufacturer per month'
papers, cardstock and embellishments in 12" x 12" plastic wallets (you can see my January supplies laid out on the cutting mat) so that I have easy access.
In case you're wondering, my work space looks like that for all of ten minutes. After said ten minutes, it looks more like this: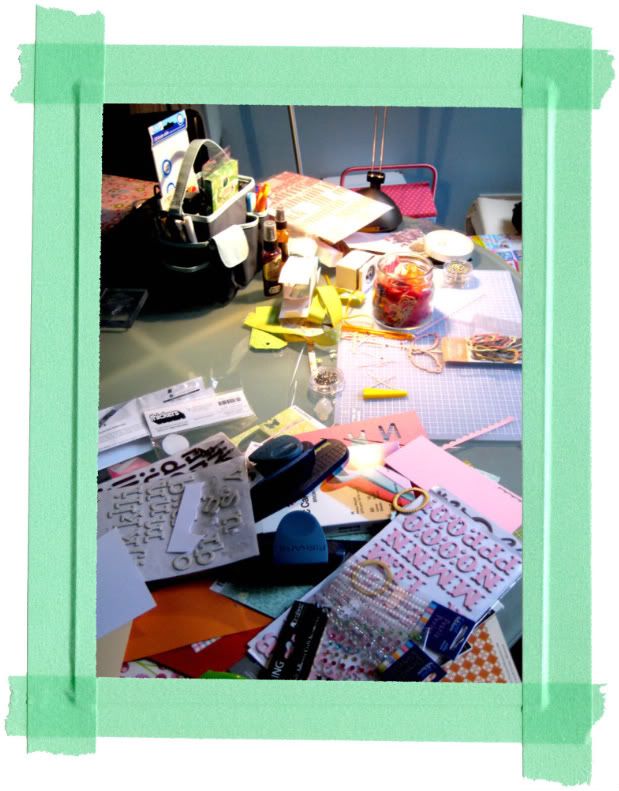 And that's pretty much it. A few bits and pieces have migrated to other parts of the flat, but 95% of my supplies live along one small wall in the kitchen. It's not always ideal, but it works. And when space is at a premium (which is almost unavoidable in London), you have to make do with what you have :) That's not to say that I don't want my own dedicated scrap space one day...I've already sort of mapped out in my mind what it will look like...and I've already started hoarding things from Etsy to decorate it! Case in point:
I LOVE THESE. I originally discovered the 'Get Inspired and Make Something' print (from
stellagirl
) via Kal Barteski's
blog
....and seriously, Stella is the
nicest
person you could possibly hope to 'do business with.' She was so very patient with me as I vaguely mentioned that "some sort of pink and lime green" for the text would be perfect (until I found the exact colours on lillypulitzer.com). And, when the prints arrived, they were
beautifully
wrapped. Check out her Etsy store
here
.
Anyhoo, I think that I've rambled on enough! Thank you so much for looking, and have a wonderful weekend!