I am so very glad that I took the plunge and signed up to take
Something from Almost Nothing
. This class is amazing, not only for the inspirational prompts that Shimelle sends us three days a week, but also for the enthusiastic and supportive atmosphere that it has fostered so far. It's so exciting to see so many blogs abuzz with such incredible creativity!
I decided to use an American Crafts 6x6 album with a customisable chipboard cover for my Celebrate Life album. For the theme, I wanted to use some of my favourite photographs from the past four or so years (while I was at university). I realised the other day that I have been so focused on my future that I have been neglecting the past...so this is a good opportunity for me to take stock and remember the good times, while at the same time celebrating what is (hopefully!) to come.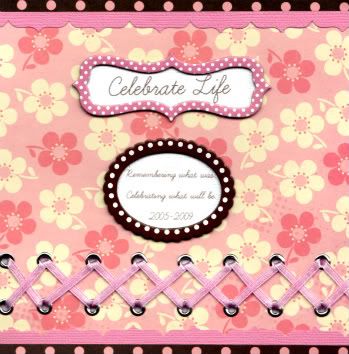 I don't have much in the way of metals, so prompt 1 was a bit of a challenge. I do, however, have a Big Bite and some eyelets, so I played around until I came up with something I liked. I'm still in love with those American Crafts chipboard frames...I originally wanted to use some AC Fabric Thickers (By the Yard in Bubblegum) for the title, but they just didn't sit well with the rest of the layout. Luckily the frames complimented the October Afternoon patterned paper, so I printed off my title and journaling (font used is Learning Curve from dafont.com) and left it at that.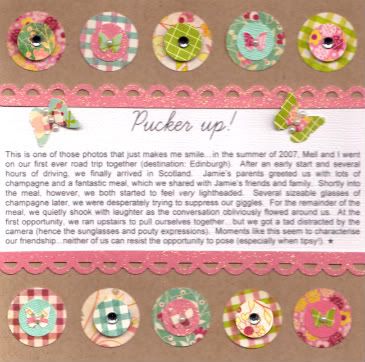 *Apologies for the slightly blurred image - my scanner can't handle raised surfaces or kraft!
For prompt 2, I used the patterned paper scraps from my
'This is Why I Scrapbook'
layout. I love Basic Grey's Lemonade collection and was so sad to see so much of it go to waste, so it felt good to stretch it a bit further :) I was really inspired by the circles used by Tara Anderson and Laura Buckingham in the prompt, but struggled to create the same look with such a small medium. I settled on a linear design instead, embellishing each circle with some bling and some butterflies, and used foam pads to give each circle some dimension.
For each prompt I am doing a double layout, so that the 6x6 photo will feature separately: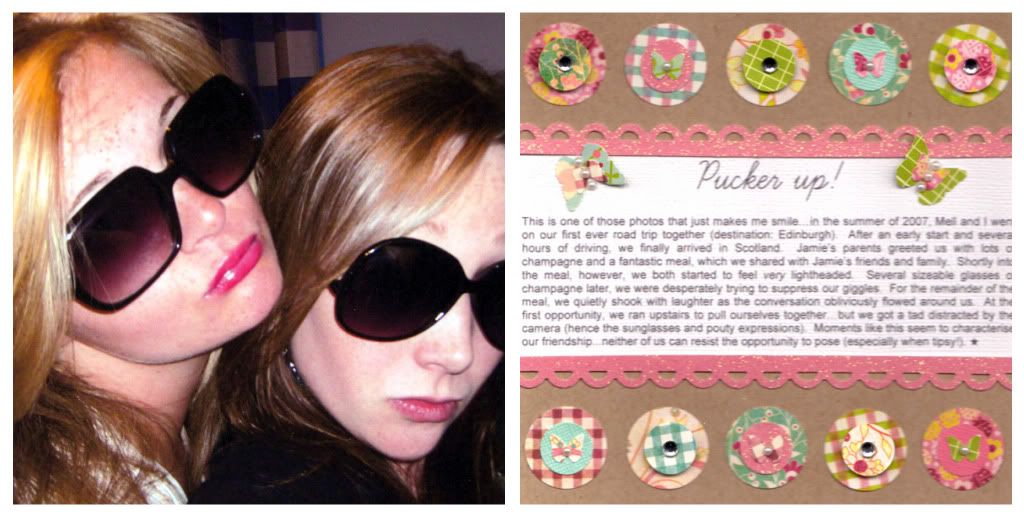 And, because I was the epitome of all things pink at university, I have tried to co-ordinate my layouts with my style and personality as it was between the ages of 19 and 22/23. Needless to say, pink will feature throughout the album to provide some consistency, along with the same title and journaling fonts.
I can't wait to get started on the next prompts! I have some ideas for the ribbon and cardstock prompts, but I am a bit stuck on how to incorporate a page protector into a layout...
Have a wonderful Tuesday!