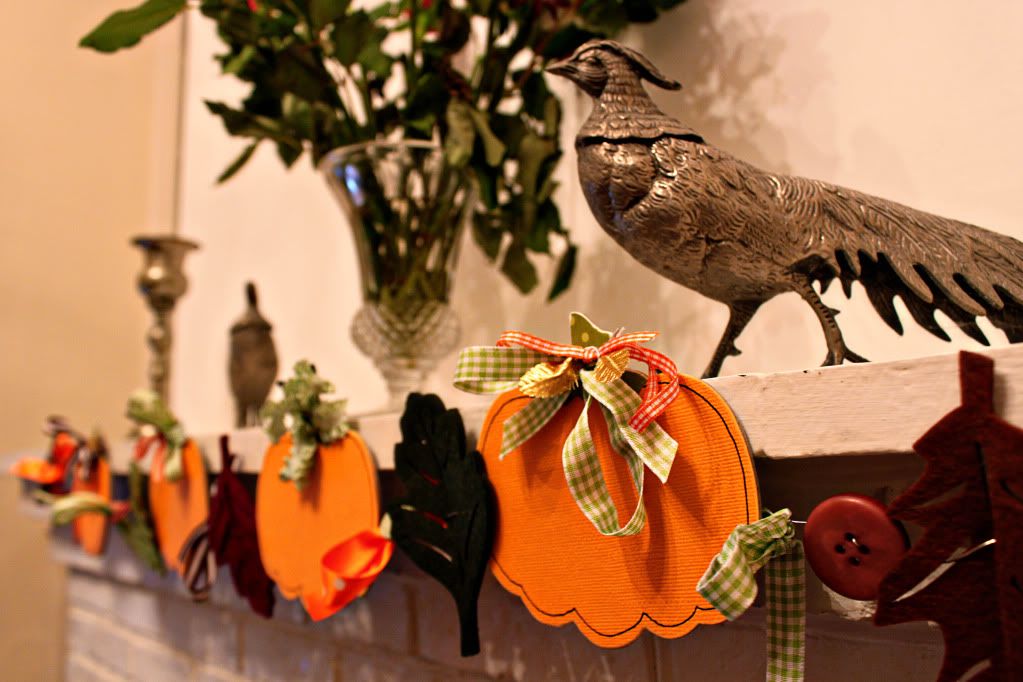 With Thanksgiving less than a week away, autumn feels as though it is rapidly giving way to winter. I wish this season didn't feel so short.
Anyway, a few months ago I bookmarked
this project
with the intention of making something similar...only to discover that the Maya Road Pumpkin Coaster album is
very
hard to come by in the UK. After tracking it down a few weeks ago at
Bubbly Funk
(they have an amazing selection of Maya Road products)...I set an evening aside earlier this week to make my own 'Fall Banner
à
la Katie Watson.'
In the end, I switched things up quite a bit. After experimenting with several different painting techniques, nothing looked quite right...in fact, it was a mess (maybe the quality of paint? I'm not sure). Instead, I traced around the pumpkins onto AC cardstock and simply adhered it to the chipboard - much easier, no drying time...and no getting stressed out. Perfect. I used a combination of Bazzill ribbons and ribbons from a local craft shop to embellish each pumpkin, along with some of those felt leaves you can see in the pictures above (20p each from an arts and crafts shop in Scotland!). Some miniature leaves from Paperchase, a selection of buttons and a black outline to give each pumpkin some definition completed the project.
Owing to the problematic lack of a fireplace/mantle, I decided that my parents could offer the banner a much better home. It is currently strung across their fireplace, with a log fire and some pheasants for company :)
Have a wonderful weekend!