Right now, I'm sitting next to the twinkling lights of our Christmas tree, listening to the Ronettes singing Sleigh Ride and getting ridiculously excited about the Christmas countdown! Last night Jamie and I took the evening off to put up our Christmas tree...and I spent most of the time pretending to be 'artful' with my camera, with varying degrees of success! Deary me. Anyway, we've decided that our tree needs some more tinsel (because you can never have too much tinsel, apparently), so I won't post the 'finished tree' photo until we've made a trip to John Lewis. In the meantime, here are a few festive photos from last night....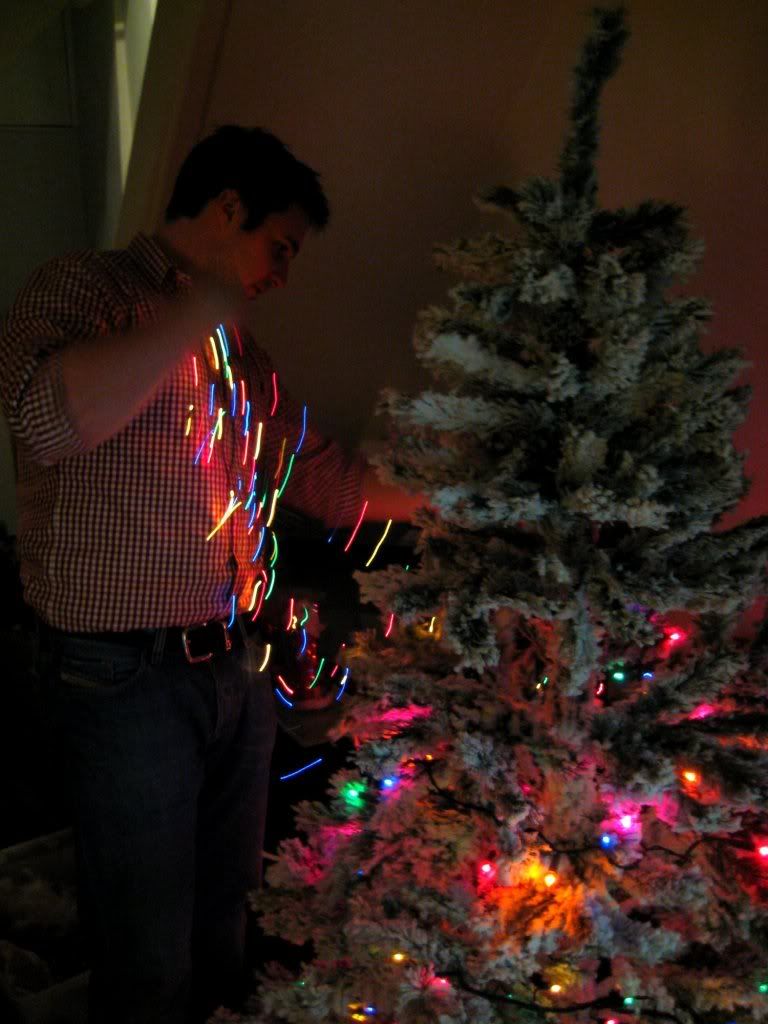 An action shot of Jamie attempting to sort out the fairy lights (which actually didn't get too tangled whilst in storage). Last year we decided to buy an artificial tree, seeing as a good-sized Christmas tree is pretty hard to come by in Central London. We found this 'snow covered' tree in Next, which I love! It looks as though someone has frosted the branches with icing...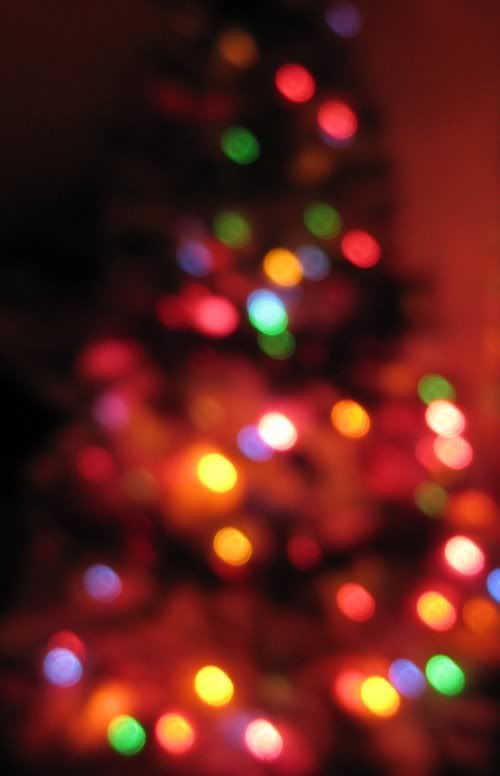 Hopefully you can tell that this is a Christmas tree....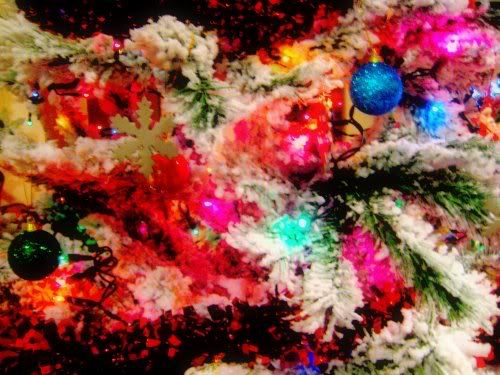 He he! This photo makes our Christmas tree look very 'loud'!! I'm actually big on tradition at this time of year - red and gold ornaments, white fairy lights etc. - but Jamie LOVES coloured fairy lights, so we compromised with a hybrid tree. You'd never know it looking at this photo though!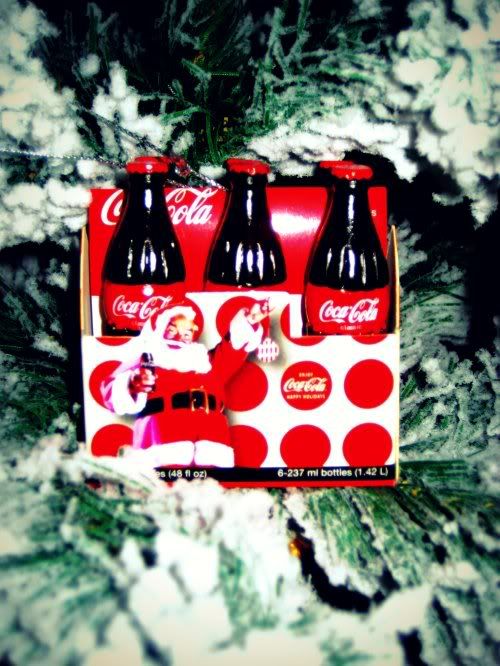 Remember this little guy?! He has taken pride of place on our tree (and he's safely anchored between two branches, because he's surprisingly heavy!).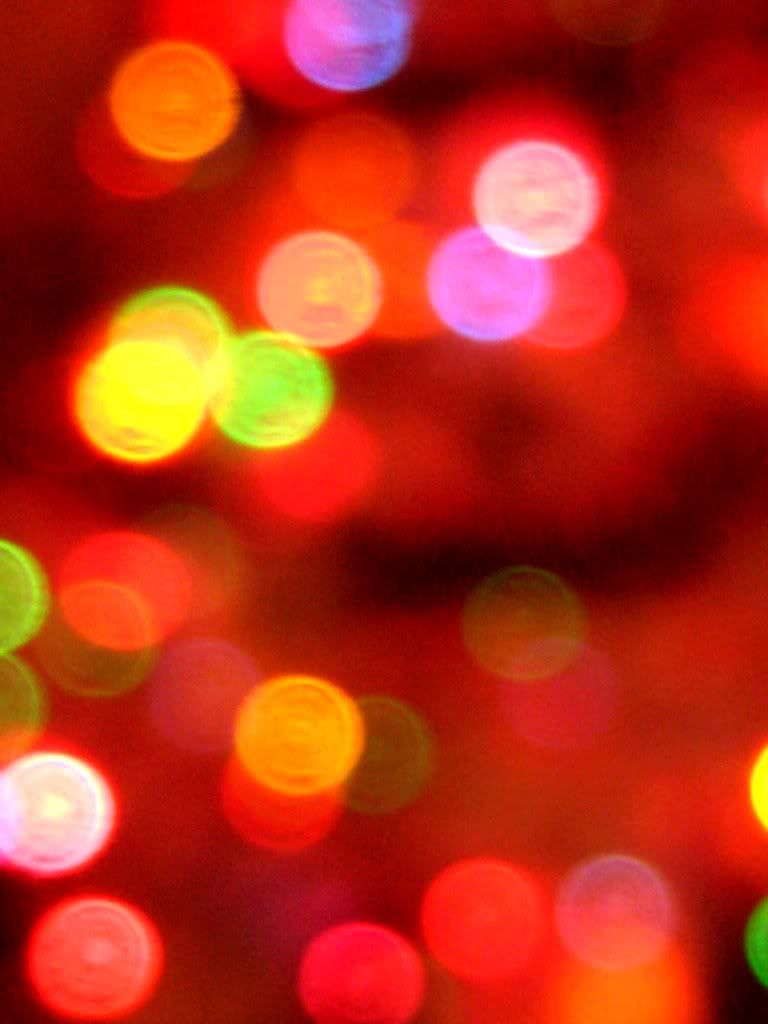 So, in yesterday's post you may recall that I was rambling on about bokeh photography. After fiddling with practically every setting on my camera, I managed to produce this photo...which sort of captures what I was going for. Practice is needed, I think.
On a non-related subject, I have a couple of questions which I'm hoping someone might be able to help with. First of all, can anyone recommend an adhesive (available in the UK) which I can use with vellum and acetate? I'm using some Making Memories acetate for my JYC album, but right now I'm stuck on how to adhere it to the front cover...Secondly, does anyone have experience with any of the following:
Zutter Bind-It-All
Cricut
Silhouette Digital Cutting Tool
Would you recommend these products? How useful have they been? Are they worth the investment? Would you recommend a Cricut over a Silhouette Digital Cutting Tool? Your help is massively appreciated! Thank you!
Enjoy the start of the week!