So, how many of you watched
Kirstie's Homemade Christmas
on Channel 4 a couple of weeks ago? Wow. I LOVED it (even though I've only managed to watch the first episode so far). I was so inspired by her ideas...next week I 100% plan to make
salt dough tree decorations
(which I haven't done for
years
). I also think that the idea of
blowing your own glass baubles
is amazing, but a lot less practical than salt dough. Next year, perhaps.
Anyhoo, while I loved Kirstie's emphasis on a crafty and creative Christmas countdown, what I loved the most was her visit to Liberty, a beautiful old department store in London nestled in between Oxford Street and Regent Street, which you can read about
here
. This year, Liberty has some
gorgeous
Christmas window displays that feature all of the elements that you might associate with a 'traditional' (or non-traditional, depending on how you look at it) British Christmas. Kirstie used these displays as her initial inspiration in the programme, and I was so overawed by them (you should have heard the squeals of excitement) that I decided I had to squeeze in a trip to Liberty before Christmas. These were my favourite displays: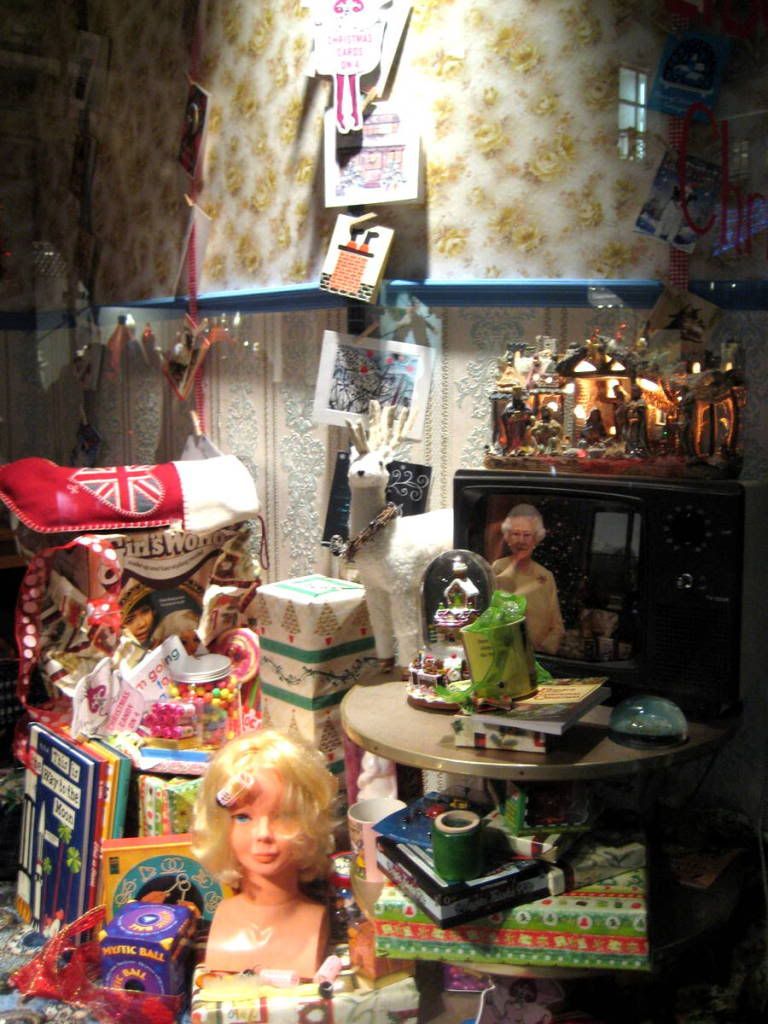 The attention to detail is incredible. I love the retro wallpaper...and the Queen's speech on tv...AWESOME. Here is a close-up:
Such a familiar sight on Christmas day!
This was possibly my favourite. Look at that wallpaper! There is also a fabric equivalent...I was SO very tempted. However, it was not quite within budget.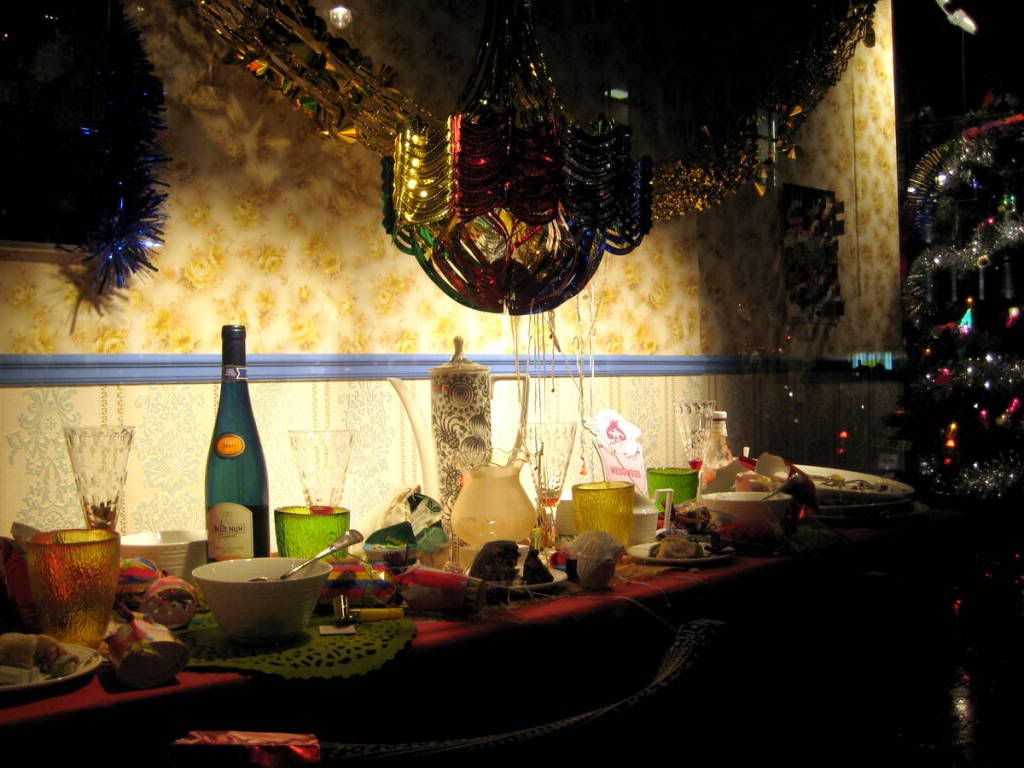 Not the greatest photo in the world, but the kitsch decorations were too good to resist.
How many of us went to see pantomimes as kids at this time of year?! I love this humorous take on a kitsch classic. You can just about see the beginnings of some quintessential 'panto' graffiti (I think this was 'oh no he isn't').
Again, I couldn't get over the attention to detail - everything was over-the-top!!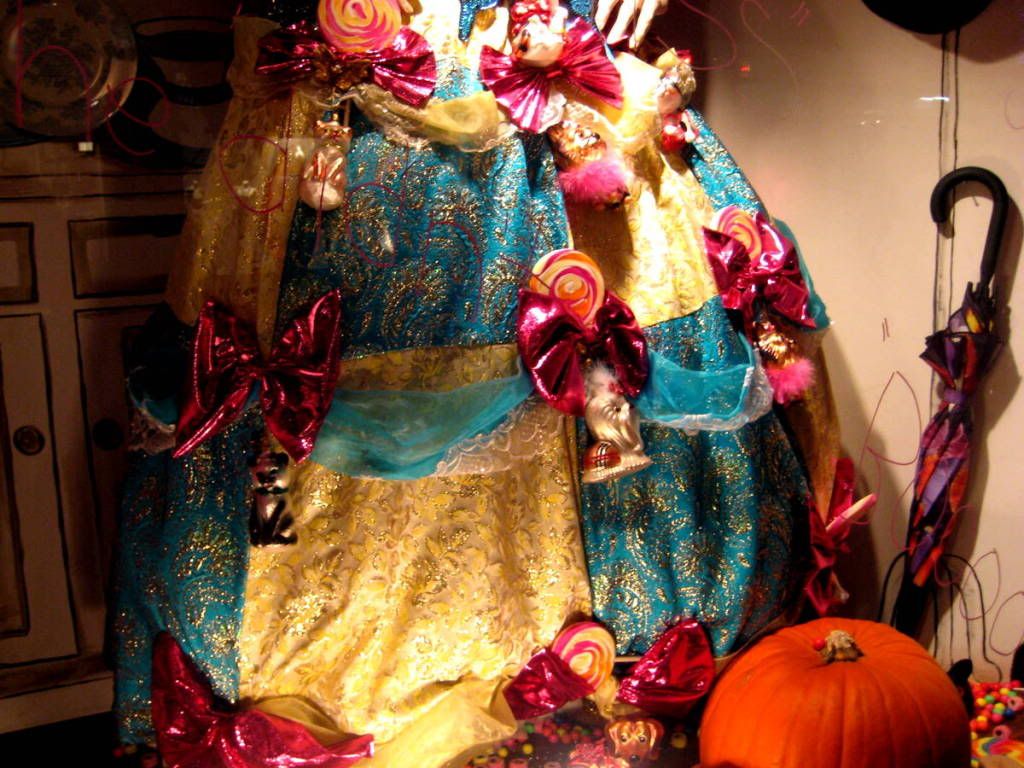 The contrasts in colour really appealed to me here - as well as the various decorations suspended from the bows. Very cool.
Altogether, the displays were eccentric, quirky, kitschy, and
very
tongue-in-cheek. They were most definitely not everyone's cup of tea. But I loved how Liberty incorporated those subtle and not-so-subtle traditions into the overall themes of each window, and (as I may have mentioned several times!), the detail was just amazing. I also spent a little while pottering around the Christmas department, where I saw these:
Generally I'm not a fan of trophies adorning the wall (it sort of spooks me), but I liked the shadow effect of the three on the left - very dramatic. And look at those penguins! Too cute for words.
Afterwards, I stopped by the haberdashery. It was heaven...the fabrics were STUNNING (but had a starting price of £19.95 a metre) and there was so much eye candy. I bought some dinky little ribbons for my JYC album and had to stop myself from begging the lovely sales assistant to hire me. I would get way too over-excited working in a haberdashery.
Today, Jamie finished his exams and both of our terms officially ended, so we celebrated with some Christmas shopping on Oxford Street and a Nando's takeaway this evening. Tomorrow, we are having our 'mini Christmas' - after the end of term, both of us go our separate ways to spend the holidays with our respective families (in Scotland and the South of England), so before we head home, we cook a Christmas meal, watch festive films (we have Polar Express and the Muppet Christmas Carol this year) and open presents. We're also planning a trip to Harrods,
Hamleys
and the
Hyde Park Winter Wonderland
if we have time. I'm so excited! On Sunday my scrapbooking supplies and I are relocating for the holidays, but snow is expected and the M25 will no doubt be a nightmare. Fingers crossed!
Have a wonderful weekend everyone!