I am officially so excited about Christmas! Last week there was such a transition in the seasons - it suddenly became
cold
, which was so refreshing after feeling uncomfortably lukewarm for most of October. I dug out my scarves and gloves; I finally decided that our pumpkins needed to be thrown out (it was a massive mistake naming them); I had my first Starbucks Gingerbread Latte in my first Red Cup of the Christmas season; I chose supplies for my 'Journal Your Christmas' album; I watched all of the Christmas decorations whizz past on Oxford Street as I sat on the bus on my way home; we ate stews and baked potatoes full of comfort food goodness; and we rounded off the week with a trip to Harrods to wander around
Christmas World
, which filled me with so much joy and lots of inspiration!
The Harrods Christmas department was totally overwhelming...I have never seen so many Christmas decorations in one place (apparently there are over
2000
for sale). The decorations that I did manage to take in were
beautiful
, and I have so many ideas for our Christmas tree this year. I dashed around taking as many pictures on my iPhone as I possibly could (with my favourite bits and pieces shown in the collage above). I do, however, have two absolute favourites that I want to share with you:
I was 100% obsessed with these super-sized lollipops! Don't they remind you of so many different Christmas films? But, they were almost £100 (which I thought was madness).
I don't think they would be too difficult to make - perhaps the trickiest part would be finding a suitable 3D 'lollipop' background...


When I saw this Coca Cola ornament I almost collapsed with excitement! For me, Christmas officially starts when I hear 'the holidays are coming' on TV. In fact, Jamie and I joke that we epitomise the 'consumer' generation because we equate Coca Cola so strongly with Christmas! It is also the only time of year that I drink regular Coke (from the traditional glass bottle, of course). So we just had to buy it...and it will look very much at home next to my
Starbucks Red Cup ornament
from last year! I have a feeling you might be rolling your eyes right about now...
Anyway, I have once again fallen behind in Shimelle's class - life completely got away from me this week and I am only just starting to catch up! In prompt no. 5 - 'learning from your surroundings' - Shimelle talked a lot about the different ways in which a scrapbooker's home can be incorporated into their blog. I love seeing how other scrapbookers/bloggers choose to depict their lives online...some people are completely candid, such as
www.kevinandamanda.com
(you can pretty much take a tour of their
lovely home!
), while others are more guarded, showing little snippets which give just enough away for the reader to get a small sense of what that person is like. However, what I love to see - and what I think is particularly revealing - is someone's scrap space/room. Whether it is minimalist or cluttered, organised or an 'organised mess,' what colours that person has chosen and what they have surrounded themselves with for inspiration...it is all so telling about not only what kind of scrapbooker that particular person may be, but about that person in
general
. So, I thought that for this prompt I would include a picture of my own scrap space, where I feel 100% at home and 100% happy. It may be the kitchen table, but it's my own little corner of the world!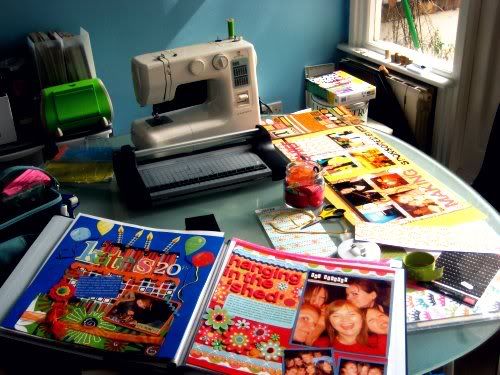 Before I head off, I wanted to say another massive thank you to everyone that has taken the time to read my blog. I have been so unbelievably thrilled to receive such lovely comments...I am SO excited that I have 5 followers...and I have gone from 4 subscribers on Google Reader to 181. To those of you that have left comments, I promise that I will reciprocate in the coming few days as life slows down a little. I haven't been able to locate blogs for a couple of you, so please let me know if you have a private profile...I can't wait to stop by!