A very happy Thanksgiving to all of you over in the U.S. today! For the past couple of weeks the majority of my subscriptions in Google Reader have been discussing Thanksgiving - whether it be the preparations, the menu or the anticipation of being reunited with family and friends - and I have so enjoyed being able to share in the excitement! Mostly, however, I've loved reading about what everyone is thankful for. I think that it is so important to take a moment once in a while to appreciate the good things in our lives; a holiday dedicated to doing exactly that is even better!
I am thankful for so many things in my life, but I am particularly thankful for the opportunity to experience Thanksgiving firsthand while I lived in America (five years ago). I was fortunate enough to spend the holiday with the most
amazing
family...for me the Roses epitomised Southern hospitality, and the welcome that I received was unsurpassed! In all honesty, I was totally baffled by the meaning of Thanksgiving before I arrived in the U.S. For us in the UK, turkey is synonymous with Christmas, so the Thanksgiving meal somehow seems to pre-empt the festive season (only without presents). It was only when I was in Mrs. Rose's beautiful kitchen, with all of the incredible cooking smells and her extended family chipping in with the preparations, that I truly appreciated what Thanksgiving is all about. I loved how it brings people together. I loved seeing different generations share and enjoy family recipes. I loved trying sweet potatoes with marshmallow topping and pumpkin pie. I have such happy memories from my first Thanksgiving, and for that I am truly thankful.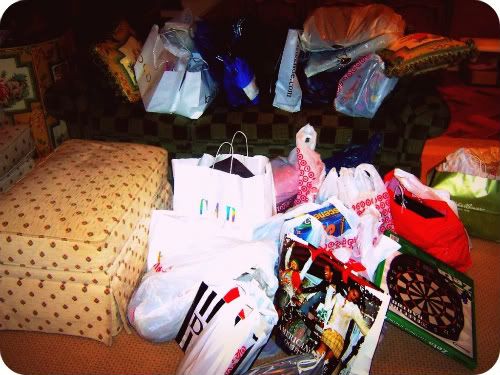 Our combined purchases on Black Friday!


The day after Thanksgiving we woke up at 5 am to make the most of Black Friday - something I had never heard of...but I thought it was AWESOME!
We went all over Memphis, stopping by Target, Best Buy and then spending the afternoon at Wolfchase Galleria. I especially loved the GAP sale. An exhausting and expensive day, but we had so much fun!
Knowing that I love Thanksgiving, Jamie made a veritable feast this evening. We had turkey, mashed potatoes, mashed carrot and swede, broccoli, stuffing and gravy. For dessert Jamie made a delicious sweet potato pie, which we had with Green & Black's Vanilla ice cream and clotted cream whilst watching two of my favourite episodes of Friends: The One Where Underdog Gets Away and The One With The Football (which just happen to be Thanksgiving themed!). I am so thankful for such a talented boyfriend!